2018年6月英语四级真题答案发布【试卷二】(完整版)
作者:互联网
来源:沪江英语四六级 微信公众号
2018-06-25 13:00
2018上半年全国大学生英语四六级考试于6月16日进行,沪江英语四六级为您持续更新真题及答案。以下部分为2018年6月英语四级第二套试卷的答案。
四级写作范文
作文二:口语能力 The importance of speaking skill and how to develop it
沪江网校及格版
When I need to make a presentation in class, I will feel the importance of speaking ability. For me, I think there are three ways to help myself improve.
First, I can read and listen to more things. It can give me more ideas before speaking. Second, I have to choose the right thing to say. Even I have a lot of thoughts, I have to keep on time. Last but not the least, I can use some special skills when I speak. For example, I can ask a question or tell a story before my talk. It will make my speech better.
In the end, I think speaking ability is very important. I can use ways like reading and listening to more things, choose my thoughts and practice some skills to develop it. (134字)
沪江网校高分版
While making a self-introduction or giving a presentation at workplace, the ability and art of speaking cannot be overemphasized. To develop and improve speaking competence, there are three steps to be a successful speaker.
First, increase your input of reading and listening. It is like to build your own database. You need to have sufficient data before the production. Second, filter the information which is relevant and appropriate for the occasion you are going to talk. At this stage, organization is the skill that should be trained and practiced the most. Finally, find out several oral skills that suit your personal speaking style to polish your talk. Some people are good story tellers; some are statisticians who regard numbers speaks louder.
To sum up, speaking competencies are of vital importance and need three-step development through receiving, sorting, and polishing. (139字)

四级听力答案
听力试卷二(星火英语版)
Section A
1. B) Scared.
2. D) It was covered with large scales.
3. A) A Study of the fast-food service.
4. C) Increased variety of products.
5. C) US government's approval ofprivate space missions.
6. A) Deliver scientific equipment to the moon.
7. B) It is promising.
Section B
8. D) Lying in the sun on a Thai beach.
9. A) She visited a Thai orphanage
10. D)His phone is running out of power.
11. C ) He collects things from different countries.
12. D) Trying out a new gym in town.
13. C) A discount for a half-year membership.
14. D) The operation of fitness equipment.
15. C) She knows the basics of weight-lifting.
Section C
16. B) They often apply for a number of positions.
17. A) Get better organized.   
18. D) Apply for more promising positions.
19. B) If not forced to go to school, kids would be outin the streets.
20. D) Design activities they now enjoy doing onholidays.
21. D)Take kids out of school to learn at first hand
22. C) It is seen almost anywhere and on any occasion.
23 D) It offers people a chance to socialize.
24 A) Their state of mind improved.
25 B) It is life.

四级阅读答案
选词填空二(新东方版):
26.C-cast 
27 L-replaced 
28 F-efficient 
29 J-professionals 
30 E-decorative 
31.G-electrified 
32 I-photographed 
33 B-approach 
34 K-quality 
35.H-identify  

长篇阅读二(有道考神版)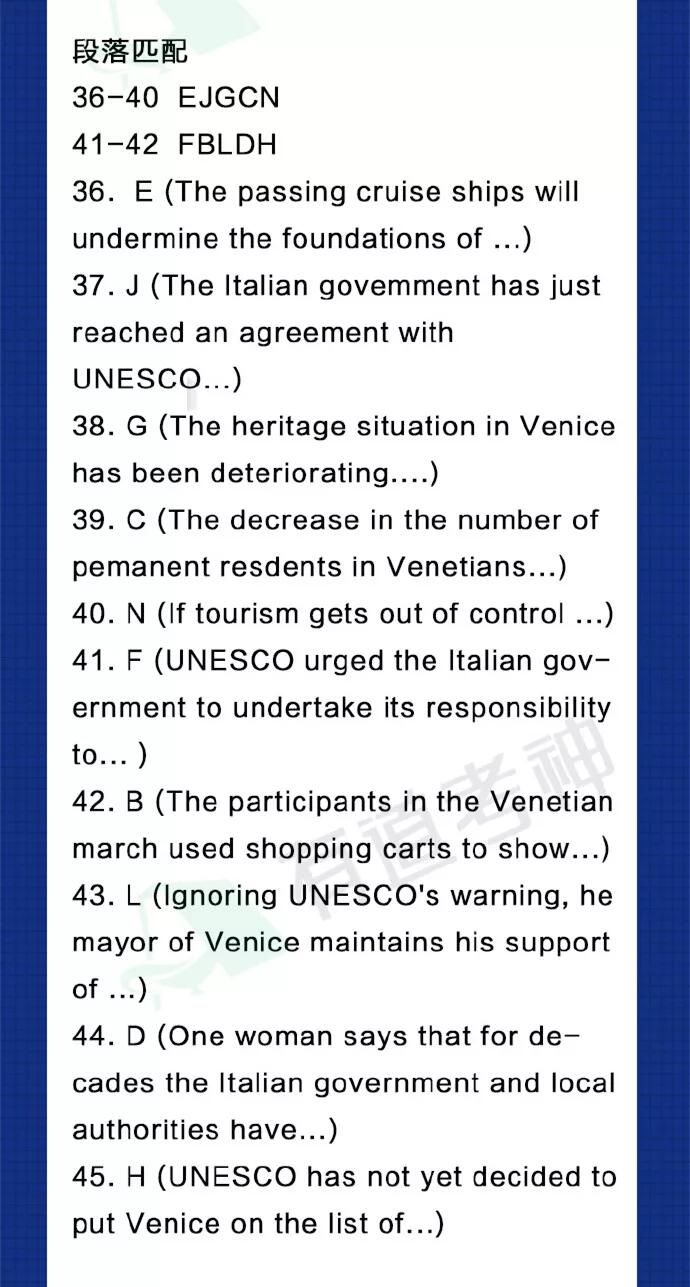 仔细阅读试卷二(新东方版)
Passage 1: Why Teaching someone else is the best way to learn? 
46.A. Seneca's thinking is still applicable today
问题:What are researchers rediscovering through their studies?
47.B. It is a teaching tool under development
问题:What do we learn about "Betty's Brain"
48 C. It helps them learn their academic subjects better.
问题:How does teaching others benefit student tutors?
49 D. They use various ways to explain the materials.
问题:Whatdo students do to teach their teachable agents?
50 B. Their emotional involvement
问题:What is the key factor that eases student tutors' learning?
Passage 2: 
51.A. They can get ahead only by striving harder.
52.C. They think it needs further improving.
53.B. Job stability and flexibility. 
54.D. The balance between work and family.
55.A. They still this world as one dominated by males.

四级翻译答案
试卷二:公交车
公交车曾是中国人出行的主要交通工具。近年来,由于私家车数量不断增多,城市的交通问题越来越严重。许多城市为了鼓励更多人乘坐公交车出行,一直在努力改善公交车的服务质量。车辆的设施不断更新,车速也有了显著提高。然而,公交车的票价却依然相当低廉。现在,在大多数城市,许多当地老年市民都可以免费乘坐公交车。
【沪江网校基础版】:
Bus was an important mode of transportation for Chinese people. In recent years, because the number of private cars has been increasing, the problem of traffic in cities has been more and more serious. To encourage more people to go out by bus, many cities have been trying hard to improve the quality of bus service. The equipment of buses is continually updating, and the speed of buses has been significantly improved too. However, the price of bus tickets is still very low. Nowadays, in many big cities, many local old people can take buses for free.

【沪江网校进阶版】:
Bus used to be a main mode of transportation for Chinese people. In recent years, with the mounting number of private cars, the transportation issue in cities is becoming increasingly severe. Many cites have been making their efforts to improve the bus service in order to encourage more people to take buses when going out. The facilities of buses are updating continually. The speed is significantly improved as well. Nevertheless, bus fares are still quite low. Nowadays, local senior citizens in most cities are eligible for free bus rides.
注:本文内容整理自网络,内容来源均注明了出处,转载请注明。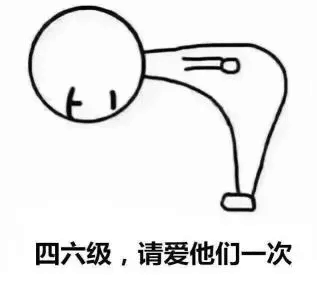 祝大家顺利通过四六级!